Brasserie du lac de la Prade
Bazas
---
Facilities / Services
Accès Handicap
Groupes
Terrasse
À emporter
---
Contact / Information
---
Social Networks
About the restaurant
En quittant Bazas par la D9 en direction de La Réole, vous ne pouvez pas l'ignorer. Enchâssée au milieu des rondes collines, l'immense retenue d'eau du lac de la Prade offre à l'amateur une zone de quiétude propice à l'observation des oiseaux.
Brasserie, cuisine du terroir, cuissons minute, produits frais et fait maison, race 100 % Bazadaise en boeuf et veau toute l'année de l'élevage Manseau de Bazas, terrasse avec vue sur le lac, menus et suggestions en fonction du marché du jour et des saisons. Ouvert toute l'année tous les midis du lundi au dimanche et le samedi soir en saison.
Pratical informations
Address
Brasserie du lac de la Prade
D9
33430 Bazas
Capacity
100 seats
150 outdoor seats
Group reception
Accueil
Accessibility for people with reduced mobility
Opening hours
Ouvert toute l'année du lundi au dimanche (service du déjeuner) et samedi soir.
Prices
Menu semaine du lundi au vendredi sur ardoise selon marché du jour : 15 € (entrée, plat, dessert, vin et café compris). Samedi : menu 28 € ou suggestions et carte. Dimanche : menu à 32 € ou carte ou suggestions. Menus du week-end (entrée, plat, dessert, hors boissons). Race 100 % Bazadaise veau et bœuf, produits frais, locaux, cuissons minute.
Methods of payment :
Cartes de paiement / Espèces / Ticket Restaurant
Other facilities and services
Facilities
Bar / Jardin / Parc / Parking privé / Terrasse
Services
Banquet / Gourmet bag / Panier randonneur / Plats à emporter / Séminaire / Traiteur / Wifi
Meeting with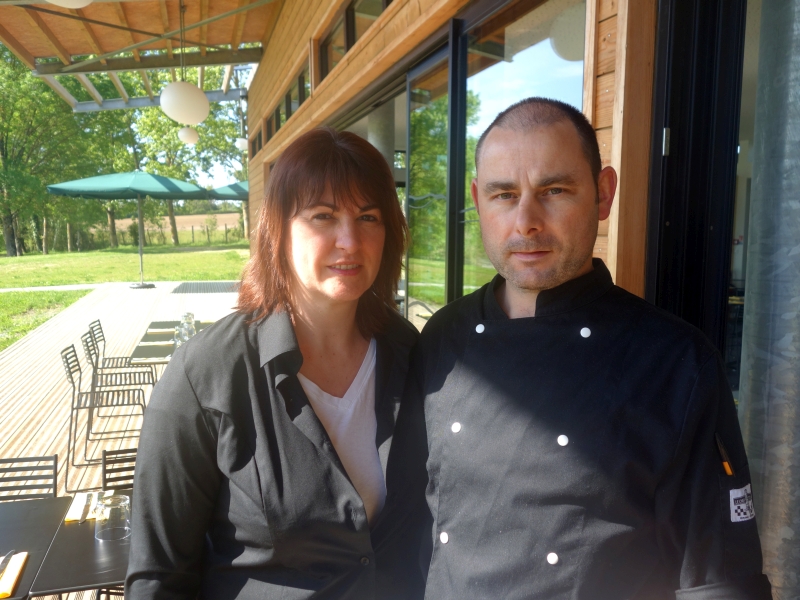 Valérie et Jean-Marie MARTIN
C'est dans un lieu vivant au rythme de la nature que Jean-Marie Martin, et son épouse Valérie, ont choisi de vous faire apprécier les produits du terroir dans un cadre privilégié. Il est primordial pour eux de proposer une bonne cuisine, avec des produits frais, cuisinés maison et de saison.